Tripawds is a user-supported community. Thank you for your support!
I've been languishing for quite a while now with a stubborn case of blogger's block. Catie's barking at people on her street to go away; Riley's barking at them to come over here and visit. I notice there's a hole in my sock and the curtains need washing; maybe it's time for the walls to get a fresh coat of paint; if I sit here long enough perhaps I'll figure out if I have anything to say.
I'm determined not to mention the weather (which has been hot and sunny; wind gusts today of 39km/h; relative humidity 27%; there's the first rumble of the expected thundershower and Catie's now heading off to hide under the desk). Maybe that's been part of the problem: trying to stifle my inner meteorologist has simply stifled me.
Maybe that's utter rubbish and maybe I can start with this instead: Catie had her fifth chemo treatment yesterday. It's a curious thing, but she's always excited to go to the hospital. The dog who wags her tail all the way downtown and bursts through the doors of the clinic looking for attention isn't the same timid girl who used to have to be dragged to the vet and who cowered around strangers. She's still a ferocious house sentinel and doesn't tolerate people and other dogs walking on our street. And yet … when I take her and Riley for their evening leash walk, it's both of them now who turn towards passersby with eagerness.
It's weird, really, and I'm not sure what to make of it at all. Maybe nothing. Maybe something. Even though she doesn't know she lost her leg to cancer, is it possible that the experience of the last five months has given Catie more courage and confidence in some teeny way?
Maybe I'll just end with that.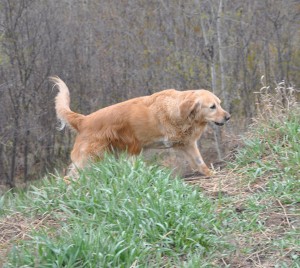 The local forecast is on in four minutes.