Tripawds is a user-supported community. Thank you for your support!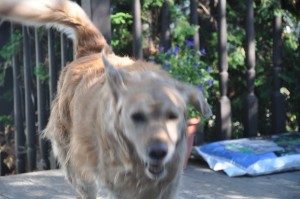 I
I've had my fingers poised over this keyboard many, many times over the last week. I think too much has happened over the last while for me to form a coherent thought so I'm just going to say that Catie and Riley survived their stay at the doggie hotel while we were in Cuba for my daughter's wedding, which – by the way – was spectacularly beautiful. Cuba, however – ahem – well,  except for the glorious waters and the white sand on the beach and the tropical landscape, that country needs a significant overhaul despite the rhetoric of the "triumph of the revolution." I personally didn't see a lot of evidence of triumph. If you were to judge Cuba by the vintage American cars on the road, you'd think you'd been transported back to the 1950s; Cubans apparently have never heard of 2-ply toilet paper and the 1-ply is severely rationed; the blow-dryers in the hotel rooms had scary vacuum-cleaner-like hoses; and let's not even talk about going through security at the airport…BUT the wedding was amazing and in my objective opinion my daughter was stunningly beautiful. Sorry… I couldn't resist adding these.
And of course, then there were the beautiful children I had to board for a week.
They are very happy we're home.