Tripawds is a user-supported community. Thank you for your support!
A surprise package on a Sunday afternoon with a birthday present for Catie's 7th and Riley's upcoming 6th.
Bewildered but overwhelming gratitude. And some tears.
I have no words. They all seem pathetically inept.
The pictures will have to suffice.
Thank you, Cometdog (and the lock of hair was too precious). Thank you, Ge'Lena. And thank you Granny Kay.
That's all I've got right now. Catie, Riley and I have some dancin' to do to Mariah Carey's poppin' rendition of Auld Lang Syne. I'm trying to choreograph a conga line with them around the Christmas tree.
Seriously.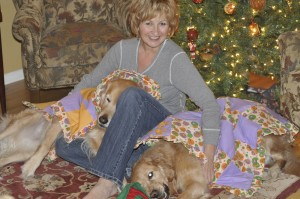 PS Whatever hand Rocket may have had in this – thanks to him too.